Playa del Duque is a premium beach on Costa Adeje in southern Tenerife. This whole area is a high-quality, exclusive resort.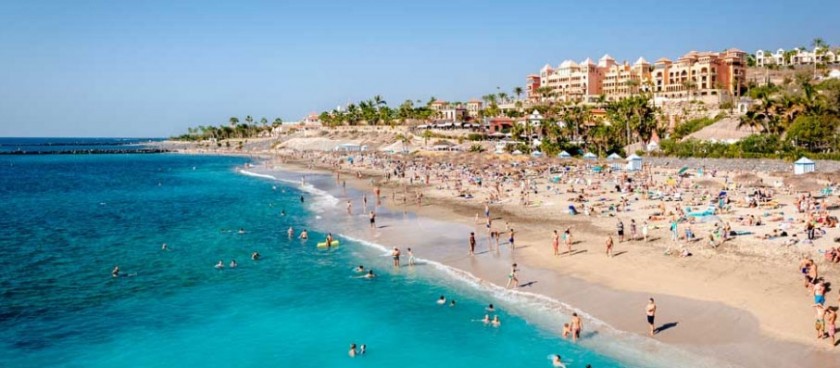 Image source: © canaryislandsinfo.co.uk
The beach is just as fantastic! Walk along the soft golden sand, feel it between your toes… take a dip in the warm, crystal clear waters… unwind on sumptuous sunbeds in glorious sunshine while listening to the sound of the waves gently lapping the shore. Sounds great, doesn't it?
Playa del Duque is made for beach lovers, people who like to relax, people who love the finer things in life. A place this good deserves to fly the Blue Flag with pride. This prestigious status has been awarded to Playa del Duque for its cleanliness, high standards and outstanding facilities: A mark of excellence. The beach is popular with holidaymakers, particularly those who enjoy a calm, classy environment.
If this sounds like you, Spain-Tenerife highly recommends staying at the lavish 5-star Gran Hotel Bahía del Duque Resort Gran Lujo. Enjoy opulent oceanfront accommodation at one of the most luxurious hotels on the island. It could not have a more convenient position to the beach; pack a bag, put on your flip flops and go.
Stroll along an elegant promenade that runs the length of the sand. An array of stylish restaurants and cafés provide plush seating areas for a relaxing drink and shaded tables to enjoy a spot of lunch. International cuisine is available as well as traditional tapas and Canarian specialties. Visitors can also enjoy some boutique shopping, with many designer labels adorning the windows of upmarket outlets.
A full range of facilities are on hand; from showers to changing areas, ice-cream kiosks to sunshades. There is also plenty of parking nearby and a large taxi rank. Local buses run from major resorts all over the island to Playa del Duque.
Last Updated: 3 September, 2021