The sexy pool decks of the Mandarin Oriental Barcelona and Hotel Olha boast bird's-eye views of the skyline, which you can soak in with a well-made cocktail in hand.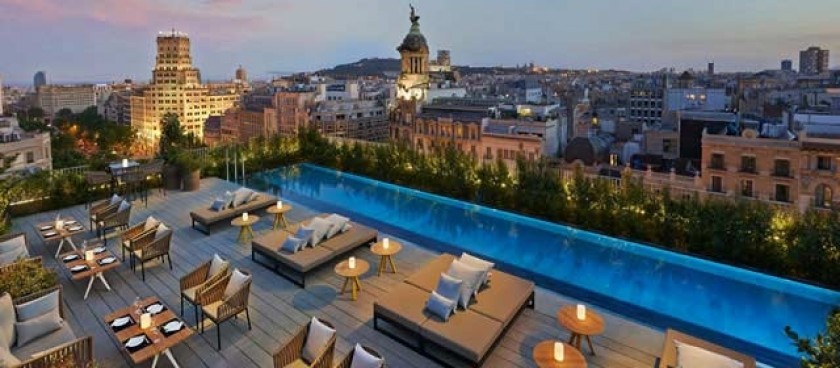 Image source: © therooftopguide.com
View all 34 places in Barcelona ›

#ES29
Passeig de Gràcia, 38-40, 08007 Barcelona, Spain
Working hours*:
April - November
Monday: 12.00 - 01.00
Tuesday: 12.00 - 01.00
Wednesday: 12.00 - 01.00
Thursday: 12.00 - 02.00
Friday: 12.00 - 02.00
Saturday: 12.00 - 02.00
Sunday: 12.00 - 01.00

* - opening and closing times as well as entrance prices, are subject to alterations without notice. Visitors are advised to check before visiting.
#Beaches
Terrat, as the rooftop bar is called, is perched on top of the luxurious 5-star hotel Mandarin Oriental Barcelona. The location of the terrace is perfect, right in the heart of the city.
From the roof terrace you get a quite magical 360-degree view of the entire city and its surroundings. Sit in one of the stylish and comfy lounge chairs and just breathe in the vistas and sophisticated vibe.
Here you can swim in the large and luxurious rooftop pool (hotel guests only) or just enjoy one of the amazing cocktails that the rooftop bar has to offer. Expensive, but delicious.
The rooftop also has a fantastic restaurant with food from Peru. Lead by chef Gastón Acurio, one of the world's most acclaimed and also a native Peruvian, so you can feel in safe hands. Perfect to enjoy a tasty dinner to the sunset over Barcelona.