Amsterdam's Stedelijk Museum is the largest Dutch museum dedicated to modern and contemporary art and design. The collection contains extraordinary pieces of art by world-renowned artists.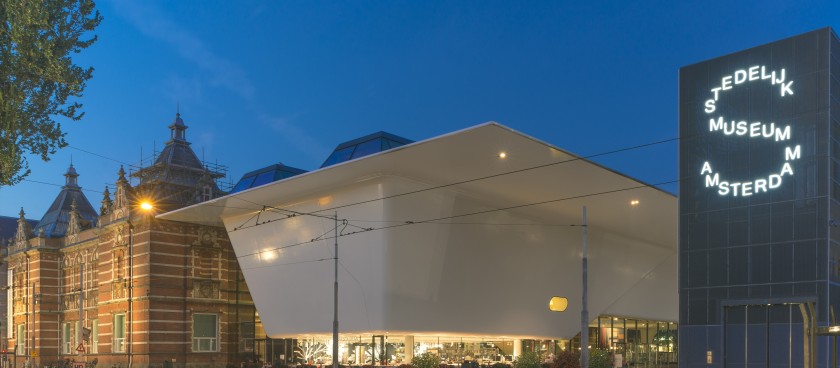 Image source: © John Lewis Marshall
View all 6 places in Amsterdam ›

#NL03
Museumplein 10, 1071 DJ AMSTERDAM
Working hours*:
Monday - Thursday:
10:00 - 18:00
Friday:
10:00 - 22:00
Saturday - Sunday:
10:00 - 18:00
Prices*:
Adults:
Online € 17,50
Register € 18,50
Students: € 10

* - opening and closing times as well as entrance prices, are subject to alterations without notice. Visitors are advised to check before visiting.
#Museums , #Art&Music
Modern art in Amsterdam
A visit to the Stedelijk Museum takes the visitor on a journey through the last 150 years of art, presenting the best of modern art in Amsterdam. Iconic works by Karel Appel, Cézanne, Chagall, Marlene Dumas, Kandinsky, Edward Kienholz, De Kooning, Koons, Malevich, Matisse, Mondrian, Picasso, Pollock, Gerrit Rietveld, Warhol and many others are on show. The Stedelijk Museum's design collection also traces the history of design from the turn of the last century to the present, showcasing furniture, ceramics, posters, jewellery and other objects.
Major movements of art, design and architecture
The Stedelijk Museum's collection contains ca. 90,000 artworks and objects, dating from 1870 to the present. It includes paintings and sculpture, photography, film and video, installations, works on paper, artist's books, applied arts and industrial and graphic design. With major movements, such as Bauhaus, the Amsterdam School, De Stijl, CoBrA, abstract expressionism, pop art, minimal art and conceptual art all represented, the Stedelijk Museum offers a great overview of modern and contemporary art, design and architecture.
Innovative art space
In addition to providing more spacious halls for exhibitions, the refurbishment and new wing have also changed the public face of the museum – which now looks out onto Museumplein rather than away from it. The impressive new foyer and restaurant are extremely inviting to both locals and travellers alike, the large museum shop is well-stocked with posters, art books, postcards and plenty of design trinkets, and thanks an avid team of art loving volunteers, the Stedelijk's programming is regularly enriched by special guided tours, lectures and other live performances.
The new wing
The Stedelijk reopened in September 2012 following extensive renovations that saw the interior of the museum brought right up to date and the addition of an eye-catching, futuristic new wing, designed by Benthem Crouwel Architects and known among Amsterdammers as 'the bathtub' because of its distinctive shape and its smooth white surface.