Casa Rocca Piccola - 16th century palazzo dates back over 400 years to the time of the Knights of Malta and is actually the private residence and ancestral home of the De Piro family.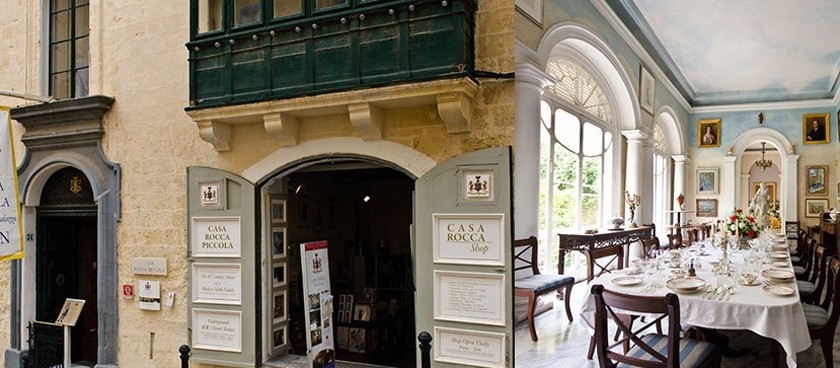 Image source: © discoveringmalta.net
View all 12 places in Valletta ›

#MT05
74 Triq Ir-Repubblika, Il-Belt Valletta
Working hours*:
Monday - Saturday
10:00 - 17:00
Sunday - closed
Prices*:
Adults - 9€
Students - 5€
Children below 14 years - free

* - opening and closing times as well as entrance prices, are subject to alterations without notice. Visitors are advised to check before visiting.
#Castles , #Museums
Built originally for one of the Knights, Don Pietro La Rocca this home really captures the essence of the life and times of the Maltese nobility. The house has over 50 rooms with each room contributing its own unique style and ambience to the overall character of this wonderful home.
The rooms throughout Casa Rocca Piccola are adorned with many items collected by the family over the centuries which include original Maltese furniture, silverware, religious artefacts and even early medical instruments all surrounded with a beautiful selection of paintings and ornaments. One of particular note is the original panels believed to be from the 17th century ship owned by Grand Master Lascaris which decorate the library walls.
What really sets this property apart from the others on the island is the network of passages that lay beneath this palazzo. Tunnels cut out of the rock by hand over the centuries are most definitely worth seeing. During World War II part of this underground network was used to shelter people from the heavy bombing of Valletta and saved many lives in the process. During your tour of this noble house be sure to visit the beautiful walled garden and you may even bump into Kiku the resident and colourful blue & gold macaw who we believe, even has his own Twitter page.
Also be sure to visit the souvenir shop which is housed in the Carriage Room of the house where you will find a wide choice of books about the island and its history. The shop is also well-stocked with a large variety of souvenirs of Malta. If you're feeling somewhat peckish then we would also highly recommend the Sicilian restaurant La Giara located in the old kitchens of this amazing palazzo.