Marsaxlokk Malta is a small fishing village with a population of around 4,000 located on the south-eastern coast of Malta located at the shoreline of the second largest port in Malta.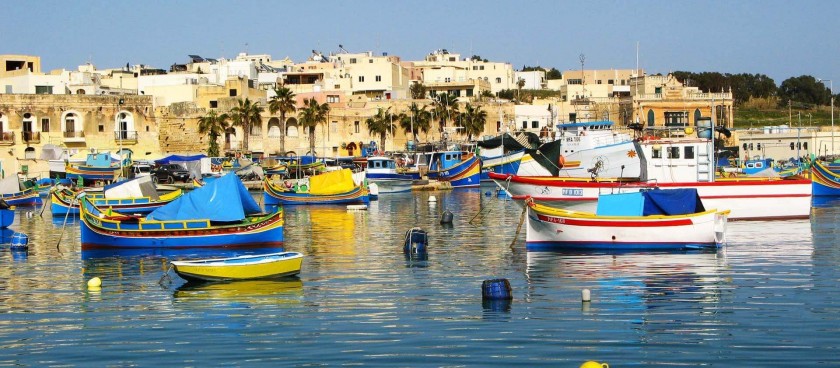 Image source: © maltainfoguide.com
You will find this fishing village on all Malta guide books. Surrounded by green vegetation, this port is very sheltered and has deep waters. For this reason it has served many purposes over the centuries.
The nearby village of Birzebbugia also forms part of this port however it offers a very different character. At present this important fishing village has the largest population of active fishermen with many traditional fishing boats of all sizes anchored in the port.
Traditional Fishing Boats
A local characteristic of these wooden boats is that they create a particular scenic effect, painted in bright red, green, yellow and blue. This fishing boat is called 'luzzu' in Maltese and in themselves are an attraction to many tourists who visit this location all year round.
The colours reflect beautifully in the blue sea of the bay. The fishing boat design is said to date back to 800 BC when the Phoenicians came to Malta. They have the traditional eye of osiris on both sides of the front bow of the boats.
It is a very quiet village compared to others, with few cars passing through. But at the same time it has become a very touristic location with many fish restaurants and cafes lined along the promenade.
If you are lucky enough you might see the fishermen tending to their nets before they go out to sea for their next catch. It is indeed a village where you can relax and gently stroll around.
Marsaxlokk Malta Fish Market and Stalls
Street hawkers set up their daily stalls here selling souvenirs, clothing and all kinds of things. You will also notice there are stalls selling fresh fish.
Marsaxlokk Malta is busiest on Sunday when many people flock to the Sunday market.
Many locals come on this day to buy their weekly supply of fish and vegetables.
You will still see the usual souvenir stalls and the Maltese lace table-cloths with crochet finishing many of them depicting the cross of the Knights of Malta.
For those with a sweet tooth, one will find many locally baked sweets to savour and purchase.
The most popular fish in Malta are the Swordfish and blue fin tuna. During spring and autumn dophin fish or Dorado, known locally as 'lampuki' is caught in abandance and is very popular with the locals.