Come and see the largest Roman lead anchor in the world, a large 18th century ship, over sixty traditional Maltese boats.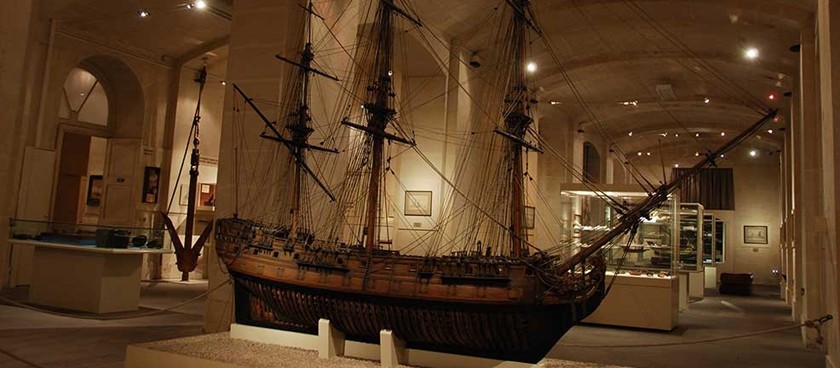 Image source: © maltavirtualtourist.com
View all 60 places in MALTA ›

#MT41
Ex-Naval Bakery Vittoriosa Waterfront, Birgu BRG 1721, Malta
Working hours*:
Monday - Sunday
9:00 - 17:00
Prices*:
Adults (18 – 59 years): 5.00€
Youths (12 – 17 years), Senior Citizens (60 years & over), and Students: 3.50€
Children (6 – 11 years): 2.50€
Infants (1 – 5 years): Free

* - opening and closing times as well as entrance prices, are subject to alterations without notice. Visitors are advised to check before visiting.
#Museums
The Malta Maritime Museum is set within the Old Naval bakery on the Birgu (Vittoriosa) waterfront. Within it, artefacts and exhibits take you on a 7,000 year journey through Malta's maritime history, showing how this history and the ties with the Mediterranean sea influenced Maltese people and the island in general.
Starting in the prehistoric era, the museum offers detailed information about all things concerning the sea, from ship building to customs, from the Phoenicians to the French to the different roles within the British Navy to the different ways in which the navy was deployed during both world wars.
The museum started collecting the artefacts on display in 1988. Many of the items on display are donations by Maltese citizens, companies, international maritime and naval museums and foreign navies. Today the number of artefacts add up to more 20,000, making this museum quite a worthwhile visit for history buffs and curious travelers. Make sure you put aside a couple of hours to visit this place properly.
Among the collection, you will be able to see some unique artefacts including a 4-ton Roman anchor, the earliest known Maltese exvoto, a model of a ship belonging to the Order of St John, a collection of over sixty boats, a collection of cannons, the Napoleonic figure head of the 110 gun ship HMS Hibernia and a marine steam engine from the 1950s.
The museum is located at the start of the Birgu waterfront, which eventually leads to Fort St. Angelo at the tip of the peninsula that Birgu was built upon.
Getting to Birgu by bus is easy – it only takes 15 minutes from Valletta via bus route numbers 2 or 4. There are no direct lines from other popular localities, however, so if you're not staying in Valletta you'll need to catch a bus heading there first.