Golden Bay is located next to Għajn Tuffieħa on the north-west coast of Malta, nearby the village of Manikata and known for its red sand and naturally formed dunes on its surrounding slopes.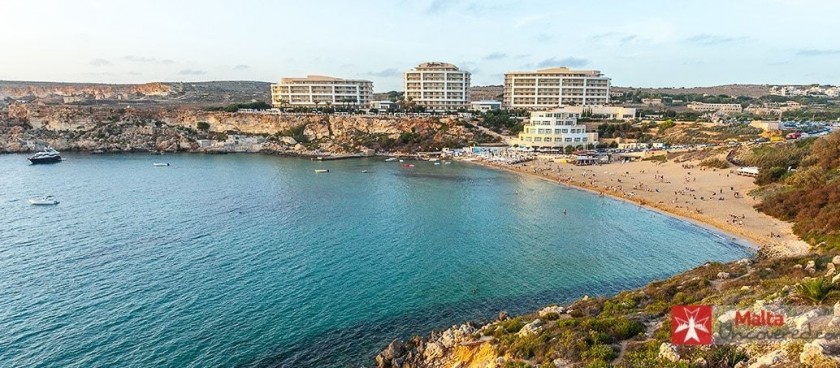 Image source: © maltauncovered.com
View all 60 places in MALTA ›

#MT10
Mellieha, Malta
Prices*:
FREE

* - opening and closing times as well as entrance prices, are subject to alterations without notice. Visitors are advised to check before visiting.
#Beaches
Golden Bay is a popularly visited beach, partly due to the proximity of the five star Radisson Golden Sands hotel.
Like Għajn Tuffieħa, Golden Bay is a sandy beach, but it tends to be more popular because it has a larger stretch of sand, is easier to access and has better facilities, including a few restaurants.
It's very easy to reach by public transport and car, although parking can be a challenge on Sundays and public holidays. The beach is a popular location for sunbathing, swimming, watersports, and parties, especially in the evening when sunset admirers fire up their barbeques and enjoy a chilled out summer night at the beach.
During the summer months, a flag system is used to indicate whether the water is safe for swimming and lifeguards are on patrol. Just as is the case at Għajn Tuffieħa, Golden Bay is also known for its treacherous undercurrents during the winter months when the weather is less stable. Although few people would consider going for a swim during that time of the year, it's not uncommon for a few adventurous (mostly foreign) people to get into trouble that way.
Lifeguards are on duty during the summer months, operated by the Malta Tourism Authority from 15th June until 15th September.