Bauska Castle is a complex consisting of the ruins of an earlier castle and a later palace on the outskirts of the Latvian city of Bauska.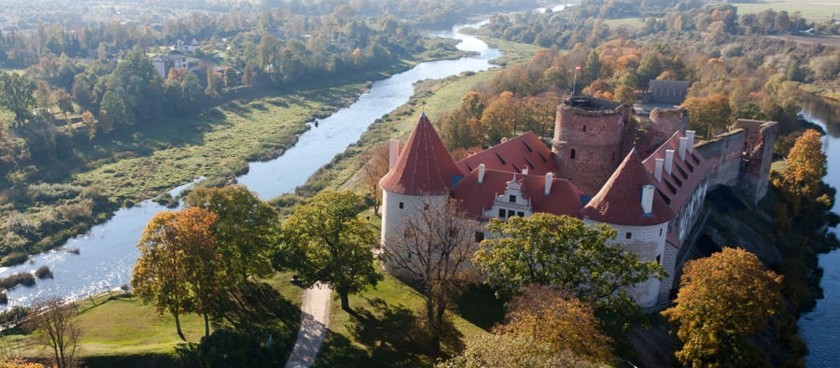 Image source: © bauskaspils.lv
View all 105 places in LATVIA ›

#LV06
Pilskalns, Bauska, LV-3901, Latvia
Working hours*:
May - September:
Daily 9:00 – 19:00
October:
Daily 9:00 – 18:00
November - April:
Daily 11:00 –17:00
Monday closed

* - opening and closing times as well as entrance prices, are subject to alterations without notice. Visitors are advised to check before visiting.
#Castles , #Museums
The castle surrounded by a picturesque scenery is located in the territory of Bauska town, on the land strip between the rivers Mūsa and Mēmele, not far from the place where the rivers meet to form the river Lielupe. The Bauska castle complex consists of two parts. The oldest of them – Livonia Order Castle – was built in the middle of the 15th century, but only ruins have remained up to nowadays. While the newest – residence for the Duke of Kurzeme (Courland) – was built at the end of the 16th century.
The Bauska Castle represents an example of military architecture in the period from 15th to 17th century. Its oldest part is the only Livonian Order fortress built especially for the use of firearms, but the newest part – a residential castle fortified with bastions, protective walls and earthen ramparts.
The building is the only partially preserved residence of Dukes of Kurzeme (Courland) and Zemgale (Semigallia), the Kettlers, as well as the only architectural monument in Latvia illustrating the expressions in art of Mannerism castle architecture and applied and decorative art in the Duchy of Courland.
In the seventies of the 20th century, restoration of the castle's newest part began to include the historical, archaeological and architectural monument of national importance among tourism-oriented places, to organise thematic exhibitions dedicated to the Bauska Castle in the historical context of Livonia and the Duchy of Courland.
The conservation of ruins of the Order Castle commenced at the end of nineties to preserve their informative value and romantic appearance in the scenery, to slow down deterioration of its structures and make the ruins safe for visitors.
The architectural monument is managed by the Bauska Castle Museum. It organises the studies, preservation and restoration of the historical building, maintains the castle's image and ensures the visiting possibilities for tourists.
Those who are interested can look at the ruins of the Order Castle, climb the central tower, view the panorama of Bauska, and see the outline of the previous fortification system consisting of bastions and ramparts. The Duke's residence hosts the regular exhibition of the museum and other thematic exhibitions.
After visiting the castle tourists can reach the Ķirbaksala by taking the pedestrian path leading through the park of the castle mound, across the meadow and bridge over the channel and see the source of the river Lielupe.

"... Heidenreich Vinke von Overberg who led two heavy battles against Russians and destroyed their land became the Master of the Livonian Order. He ruled almost 14 years and built the Bauska Castle."
Balthasar Russow's Livonian Chronicle – Barta, 1584.
draugiem.lv