Milan also has canals! The main one is the Naviglio Grande which gives the name to this district.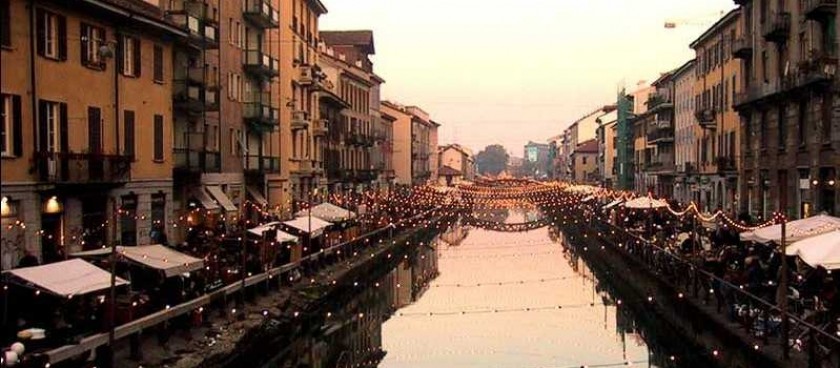 Image source: © truemilan.com
Navigli is the name of the triangle bounded by Milan Naviglio Grande and the Naviglio Pavese which is headed by the Porta Ticinese dock and covering a large part of the southwestern quadrant of the city.
It is a charming district, where you can have a pleasant walk or have an aperitivo Milanese. It is nice in every season to walk there, with a smooth breeze on your face.
There are two canals, which are called Naviglio Grande and the Naviglio Pavese (the word Naviglio itself means the Canal in Italian). Both of them are surrounded by different types of cafés, restaurants, bars, design shops, art galleries etc. Usually what we do is just to start our evening having an aperitivo in Navigli, choosing one random restaurant we'd like to sit and then head to a bar to continue our night-out! Since this district is full of options, it become the first destination!
Only thing you need to do in order to reach there is to take the green line with metro and take off in the stop called Porta Genova, the second alternative is as always the tram if you'd like to enjoy the city sight at the same time in your journey.
There is held the vintage bazaar every last Sunday of the month and if you are lucky you can catch it in your trip as well! It might remind you the northern canal cities like Amsterdam at the first sight. Do whatever you want in this city, but better not miss this enjoyable and cool area full of everything!