One of the most well known painting of all times is in Milan!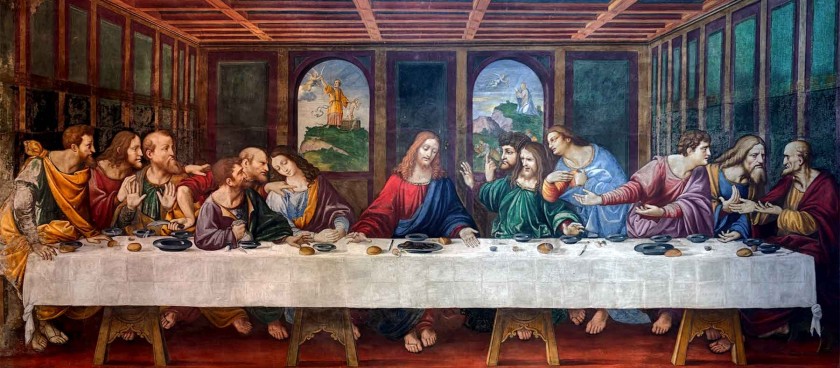 Image source: © cenacolovinciano.org
The Last Supper, painted between 1494 and the beginning of 1498, is considered perhaps the most important mural painting in the world, "a beautiful and marvelous thing", as Giorgio Vasari wrote in his Lives of the Most Excellent Painters, Sculptors and Architects, in which he speaks of Leonardo and describes the Last Supper.
Painter, architect, sculptor, engineer, inventor, mathematician, anatomist and writer, Leonardo da Vinci embodied the ideal of the many-sided man dreamed of by the Italian Renaissance.
The Last Supper offers perhaps the most complete testimony to his multifaceted genius, urge to experiment and inexhaustible curiosity. In the period when he was working on the painting, the last decade of the 15th century, Leonardo was also busy with studies of light, sound, movement and human emotions and their expression. We find these interests reflected in the Last Supper, in which, perhaps more than in any other work, Leonardo displayed his concern to depict what he called the "motions of the soul" through postures, gestures and expressions.
Leonardo's Last Supper is located in its original place, on the wall of the dining room of the former Dominican convent of Santa Maria delle Grazie, exactly in the refectory of the convent and is one of the most celebrated and well known artworks in the world.
Leonardo Da Vinci's "Last Supper", a huge painting of 4.60 meters high and 8.80 meters wide was made with tempera and oil on a gypsum preparation instead of the technique commonly used in the fresco period.
Several measures have now been implemented to protect the paint from deterioration. To ensure that the fresco is maintained at room temperature, since the last restoration, visitor's' entry has been restricted to a group of 25 people every 15 minutes.