Take up the viewpoint of a GDR soldier who used to secure the border on the watchtower on Potsdamer Platz.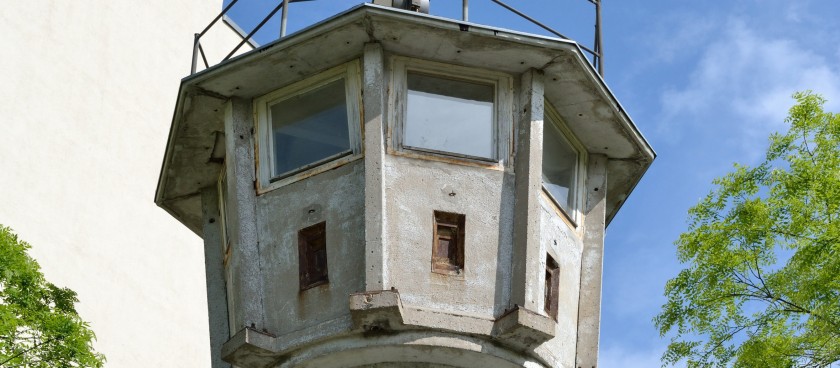 Image source: © visitberlin.de
View all 35 places in Berlin ›

#DE09
Erna-Berger-Straße, 10117 Berlin, Germany
Working hours*:
Monday - Sunday
11:00 - 17:00
(Except rain)
Prices*:
3,50€

* - opening and closing times as well as entrance prices, are subject to alterations without notice. Visitors are advised to check before visiting.
#Towers , #Viewpoints
One of the last relics from the GDR era can be found in a small side street on Potsdamer Platz – the type "BT 6" watchtower. A concrete exterior, round at the base and octangular above. Two iron ladders on the inside take you up the few metres to tree-top level and once you are there you can look out through the small windows just as the border soldiers used to.
History of the watchtower at Potsdamer Platz
The so-called "panoramic observation tower" was part of the border troops' base and of the Ministry for State Security. It was used for monitoring the border strip as well as the ministries close by. The solid, type "BT 6" watchtower with rifle loopholes was built from 1966. At the end of the GDR era, there were more than 200 of these watchtowers on the Berlin border.
The watchtower at Potsdamer Platz was erected in 1971. The shooting range stretched from the Tiergarten to the Brandenburg Gate. The tower was manned at all times by two border patrol soldiers working eight-hour watches in cramped conditions.
Today, the watchtower is the last remaining one of its kind. It was listed as a site of historical importance in 2001 and renovation work began 10 years later. Thanks to the work of volunteers, you can view the tower today on Erna-Berger-Straße.