Oberbaum Bridge is a double-deck bridge over the River Spree and one of Berlin's landmarks. It connects the formerly divided districts of Kreuzberg and Friedrichshain.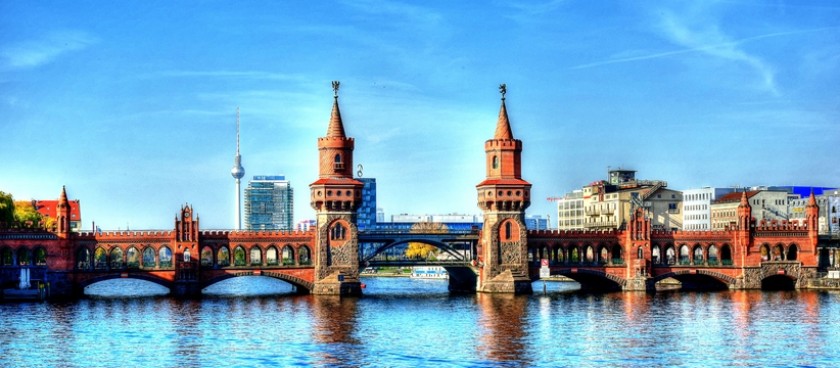 Image source: © fototouren-berlin.de
Berlin's double-decker bridge Oberbaum Bridge (Oberbaumbrücke), built in 1895, links the two Berlin districts of Kreuzberg and Friedrichshain separated by the River Spree. Traffic runs on the lower part and U-Bahn trains (U1) on the second level. It was built on the site of a previous timber bridge built in 1724 when the construction of an elevated railway required a reinforced structure. The result was a seven-arched concrete bridge with a granite and brickwork façade. It is distinctive architecturally because of its mock medieval turrets – which recall the function of toll bridges and arches.
Oberbaum Bridge was a Cold War border checkpoint
More recently the bridge starred in the Hollywood movie "The Bourne Supremacy" (2004) filmed on location in Berlin. Jason Bourne - played by Matt Damon - is seen crossing the Oberbaum Bridge in a Taxi on his way to the Westin Grand Hotel. A Cold War landmark of division between between east and west from 1961 to 1989, armed guards patrolled the banks of the river as a border area. The bridge was one of the crossover checkpoints from West to East only.
Oberbaum Bridge today
Today the bridge is adorned by graffiti and street artists' work. A sandy beach for chilling out in the summer has replaced the barbed wire of the no-man's-land and techno music is the distinctive sound from the scene in the reunited districts of Friedrichshain and Kreuzberg.
Water battle on Oberbaum Bridge
The bridge is also special in local lore because of the so-called "water-battle" event in tune with the traditional anarchist-bohemian character of the area. The bridge has separated the two districts since 1920 and since 1998 young people of all ages have converged here to fight an archaic-anarchic mock battle using assorted weapons such as rotten fruit and other harmless objects used as projectiles. The reason for the fight is unknown but it's taking part that counts.
With 1970's sounding names typical of the German agitprop resistance movements of those days, such as Water Army Friedrichshain (WAF) against Kreuzberg Patriotic Democrats/Realistic Centre (KPD/RZ) each side tries to defend the bridge and repel the adversary. A recent film, "Die Wasserschlacht" (The Water Battle) nominated for the Berlin Today Award (BTA) 2007 at the Berlin International Film Festival, tried to capture the origin of the combat trying to figure out how it all began.