Berlin´s largest trampoline park in Reinickendorf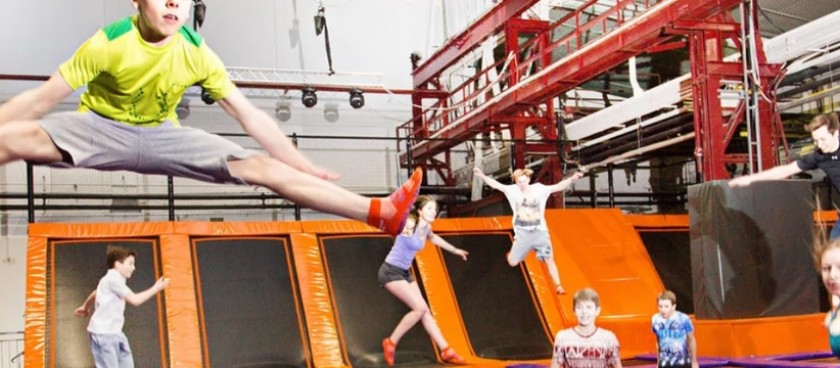 Image source: © visitberlin.de
View all 35 places in Berlin ›

#DE25
Miraustraße 38, 13509 Berlin, Germany
Working hours*:
Sunday:
9:30 - 20:00
Tuesday - Thursday
15:00 - 21:00
Friday
13:00 - 21:00
Saturday
9:30 - 22:00
Prices*:
60 min. - 14,00€
90 min. - 20,50€
120 min. - 27,00€

* - opening and closing times as well as entrance prices, are subject to alterations without notice. Visitors are advised to check before visiting.
#Family time
JUMP House Berlin is Berlin's largest trampoline park with a total area of ​​over 4,000 m² and more than 120 trampolines in seven different fun zones for everyone six years of age and older.
Did you know that ten minutes of trampoline burns as many calories as half an hour of jogging? You increase your oxygen intake, metabolism, and heart rate. You can even jump three-dimensionally in this listed building on Miraustraße in Berlin's Reinickendorf district, because even the walls are elastic!
JUMP House in Berlin's Reinickendorf is one of the largest trampoline halls in Germany, covering more than 4,000 m². Includes:
FoamJUMP pit
a BagJUMP area
a FreeJUMP area with over 70 trampolines
SlamJUMP for basketball fans
two 3-D dodgeball fields
a Battle Box and
the WallJUMP for Spiderman-JUMPers
JUMP House Berlin is divided into different areas: FreeJUMP is a massive area with 70 ordinary-sized trampolines. GameJUMP is suitable for various games such as dodgeball, while FoamJUMP allows you to jump from a trampoline into a pit full of foam balls. BagJUMP is a kind of giant pillow filled with air onto which you jump from two trampolines. SlamJUMP consists of two trampolines which you use to help you throw baskets. In the Battle Box, two people balance on a narrow beam, aiming to push the other into a pit filled with foam. WallJUMP is a long trampoline next to a wall allowing you to walk up the wall, so to speak. For a break, tuck into pizza, currywurst, salads, cakes, etc. at the snack bar.