Built during the years of the GDR, the iconic TV Tower is now a symbol of the entire city. Enjoy the stunning panoramic views from the viewing platform!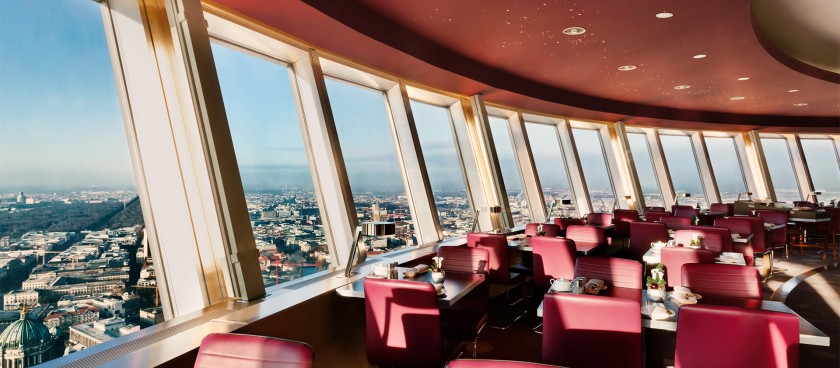 Image source: © tv-turm.de
View all 35 places in Berlin ›

#DE06
Panoramastraße 1A, 10178 Berlin, Germany
Working hours*:
Monday - Sunday
9:00 - 12:00
Prices*:
Adults 16.50€
Children (4-14 y.) 9.50€
Children under 4 - free

* - opening and closing times as well as entrance prices, are subject to alterations without notice. Visitors are advised to check before visiting.
#Viewpoints
History
In the early 1950s, the German Democratic Republic planned to build a new facility in Berlin intended primarily for the broadcast of GDR television programmes. Initially, a location in the Müggelberge hills was considered. Once outbuildings had been built there, the Ministry of the Interior realised that the broadcasting station would lie in the approach path of the planned Schönefeld Airport.
In the 1960s, the GDR government arranged to have the TV Tower built at its current location, with the aim of demonstrating the strength and efficiency of the socialist system in mind.
Today the Tower defines the silhouette of Germany's capital city – a symbol of the reunified Germany, just like the Brandenburg Gate.
Design
The original design of the slender Tower soaring skywards was devised by the GDR architect Hermann Henselmann. The sphere of the TV Tower was intended to remind people of the Soviet sputnik satellites and was to light up red, the colour of socialism.
Only one method was considered for constructing the Tower. This is known as "climbing formwork". The internal steel frame grew more quickly than the external concrete shaft, which was built around the steel frame.
Mounting the sphere at a height of 200 m presented the engineers with a challenge. The load-bearing steel frame of the sphere was initially precast on the ground. The segments were heaved up using cranes and then secured on the circular platform which forms the final section of the concrete shaft.