There's a recess in the rocks with a small sandy cove washed by rolling waves that surfers adore.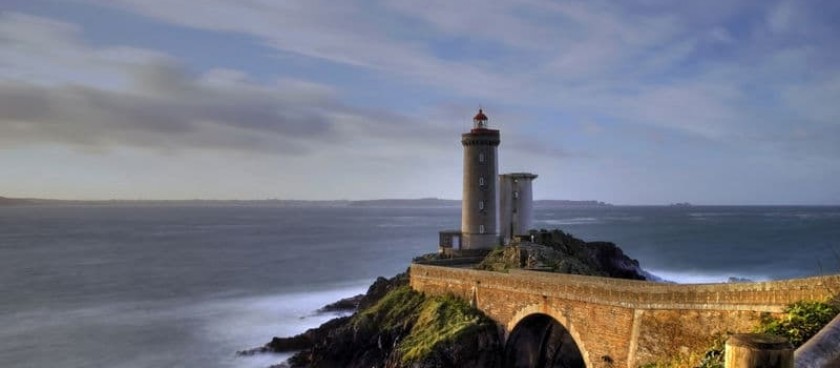 Image source: © wiki-brest.net
The Petit Minou lighthouse stands on a rock out to sea on the north coast of the Goulet de Brest.
It is located in front of the fort of the same name and connected to land by a stone bridge in the town of Plouzané.
The cylindrical tower is built in freestone from Aber-Ildut, with a height of 26 meters from the ground and 34 meters above sea level.
Lit in 1848, it was automated in 1989 and remotely controlled from Brest.
The white and red light, 2 flashes 6s, has a luminous range of 19 nautical miles (about 35 kilometers).
Aligned with the portzic lighthouse, it indicates the route to follow to enter the harbor of Brest.
Next to the lighthouse is the old semaphore tower of the French Navy. It will be moved to the tip of Portzic in 1984.
The construction was supervised, as well as that of Portzic, by Mr. Louis Plantier, Engineer of the lighthouses and beacons of Finistère.
Last Updated: 21 January, 2022