Built by Nikolai von Glehn in 1886 and set a forested park, this castle provides a perfect escape from city centre bustle.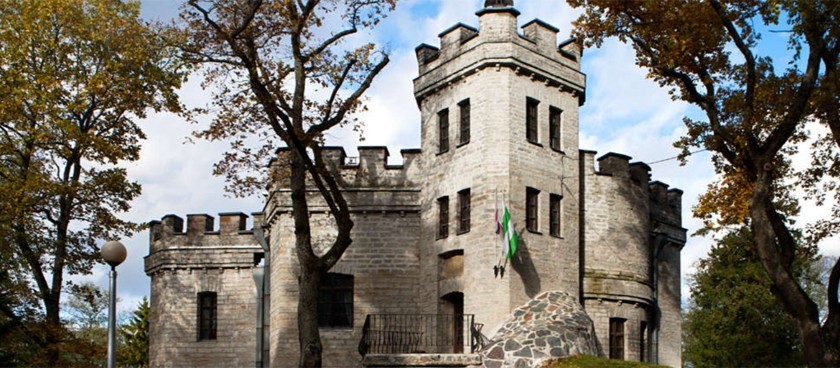 Image source: © visittallinn.ee/eng
History
The castle is named after its original owner and builder, a nobleman called Nikolai von Glehn. This man was also the founder of the town of Nõmme which eventually grew to be part of the capital city, Tallinn. The whole area of the borough was originally part of the estate of Jälgimäe, the owner of which was von Glehn's father, the family originally hailing from Holland and Germany. When the son inherited the manor, he decided to trade in a piece of the land with a neighboring landowner and build himself a castle on the slopes of the moorland under the local pine-trees. The castle, which was planned by von Glehn himself, was completed in 1886 and was built in the style of a Medieval Swiss castle. The builders, by the way, were prisoners from a Tallinn penitentiary. The original furniture and interior, however, were crafted by von Glehn personally. Nowadays, only a large oak wardrobe remains of the items, kept in a nearby planetarium.
The castle was surrounded by a forest park, again planned by the owner, accompanied by statues of a dragon and an Estonian mythological hero (called the Old Devil by local people due to the horned animal skin he wears, completed at about 1902-08, restored), an art nouveau-style stone green house filled with exotic plants in its time (now ruined, undergoing restoration), a planetarium, and a granite column in front of the castle to commemorate the grave of his favourite horse. There were also a small rock grotto and a model of the castle in front of the house, meant for children; and there were maintenance buildings around the castle for farm workers which no longer exist.
The castle was damaged in the World Wars and its owner had to flee the country. The castle was fully restored in the 1980-s and is nowadays owned by the Tallinn Technical University and can be rented for occasions.