Historic original venue 2000 years of Viennese history brought to life A tour through an adventure area with 1,300 m² Humorously accompanied by tour guides With 5D cinema, animatronic shows, laser effects and virtual reality.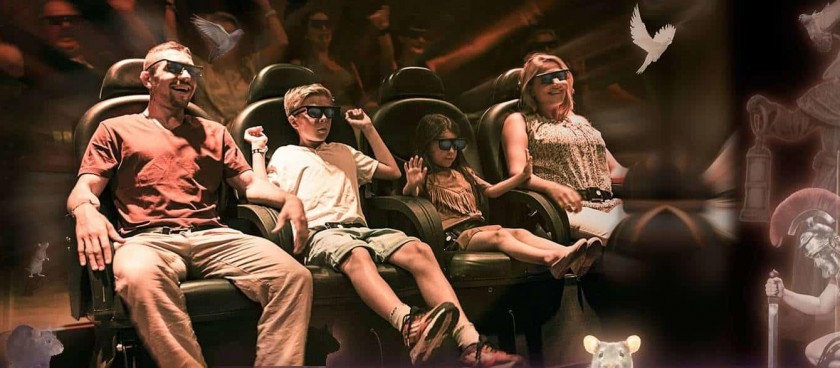 Image source: © timetravel-vienna.at
View all 26 places in Vienna ›

#AT13
Habsburgergasse 10A, 1010 Wien, Austria
Working hours*:
Open year-round
Daily 10:00 - 20:00
Last tour starts at 19:00
Tour start every 20 minutes (00, 20, 40)
Prices*:
Adults - 19,50€
Children (5 - 14 years)* - 15,50€
Students & Seniors (55 years and older) - 17,50€

* - opening and closing times as well as entrance prices, are subject to alterations without notice. Visitors are advised to check before visiting.
#Family time , #Museums
In 7 different stations with show scenes, you will experience the highlights of Viennese history staged with lots of humor, technical effects for all senses and a lot of emotion. You will experience Vienna from the Roman age, over the attack of the Turks, the Viennese coffee house culture, you will also be part in an audience with Emperor Franz Joseph personally and the Habsburg family. You survive the great plague in Vienna and meet the Dear Augustin in a plague pit. After that your journey brings you to meet the two musical genies Wolfgang Amadeus Mozart and Johann Strauss Son, the creator of the Danube waltz. The VR Music Ride is your pure music experience. Then you will go on to the war zone and will learn about dark times while you run for cover in an original air raid shelter. After the solemn signing of the Austrian Independence Treaty with Leopold Figl, the conclusion of the journey will be a cheerful carriage ride and a flight over Vienna.
Combine your visit to Time Travel with a culinary experience at one of the nearby gastronomic partners, a list of them can be found here. The Habsburgergasse (Time Travel) is a side street from the moat, parallel to the Kohlmarkt. The journey can be made public (line U1, station Stephansplatz or U3 Herrengasse), the best parking possibility by car is in the garage WIPark Graben Freyung. You can enter there regularly and receive with Time Travel follow-up cards for the exit with a reduced tariff by € 5.90.- for 3 hours, thus you park there for the price of the short parking zone.