The Hundertwasser House in Vienna is one of Austria's architectural highlights. The house designed by Friedensreich Hundertwasser draws visitors from around the world.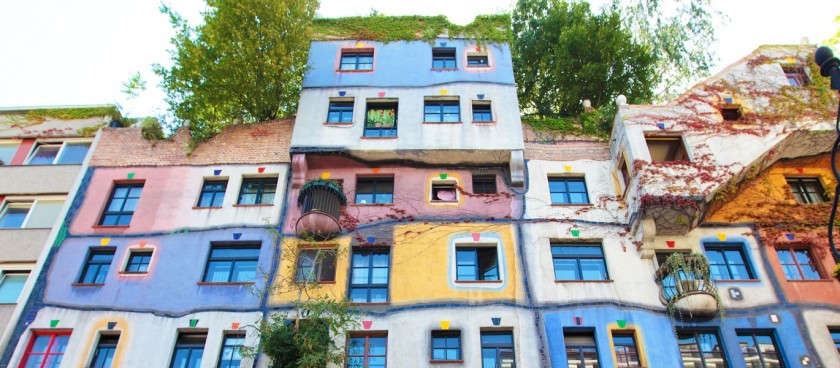 Image source: © bigbustours.com
View all 26 places in Vienna ›

#AT21
Kegelgasse 36-38, 1030 Wien, Austria
Working hours*:
Monday - Sunday
9:00 - 19:00

* - opening and closing times as well as entrance prices, are subject to alterations without notice. Visitors are advised to check before visiting.
#Architectural Oddities
The Hundertwasser House in Vienna bears the unmistakable hand of the artist Friedensreich Hundertwasser, whose birth name was Friedrich Stowasser. The colorfully decorated exterior façade of Hundertwasser House in Vienna draws attention to itself almost magically. Anyone who lives in the Hundertwasser House also has the right to decorate the façade around the windows entirely to their own taste. More than 200 trees and shrubs on the balconies and roof terraces make the Hundertwasserhaus a green oasis in the heart of the city. The Hundertwasserhaus can only be viewed from outside.
Right opposite the Hundertwasserhaus, however, is the Hundertwasser Village, which is open to visitors. It was created out of a tire workshop in 1990-1991. The artist created his own shopping center here with a "village square", a bar and numerous stores in the typical Hundertwasser style.
Kunst Haus Wien
Like the Hundertwasserhaus, the Kunst Haus Wien, just a few minutes' walk from the Hundertwasserhaus, was also designed by Friedensreich Hundertwasser. As is typical of Hundertwasser's buildings, there are hardly any straight lines to be found here. A permanent Hundertwasser exhibition and temporary exhibitions of other artists are shown here on an exhibition space of around 1,600 square meters.
Colorful and unusual
The Hundertwasserhaus in Vienna is a building designed by the artist Friedensreich Hundertwasser and located in the 3rd Viennese district. The extraordinary building was constructed between 1983 and 1985. It was architecturally realized with the collaboration of architect Josef Krawina as co-creator and the implementing architect Peter Pelikan. The result is known about around the world.
Tip
In the "Kunst und Café" coffee house on the ground floor of the Hundertwasserhaus , a free film can be watched in which Friedensreich Hundertwasser leads viewers in person through "his" house.