The Danube Tower is a Viennese landmark and an engineering masterpiece. It now stands resplendent in a stylish reinterpretation of the 1960s.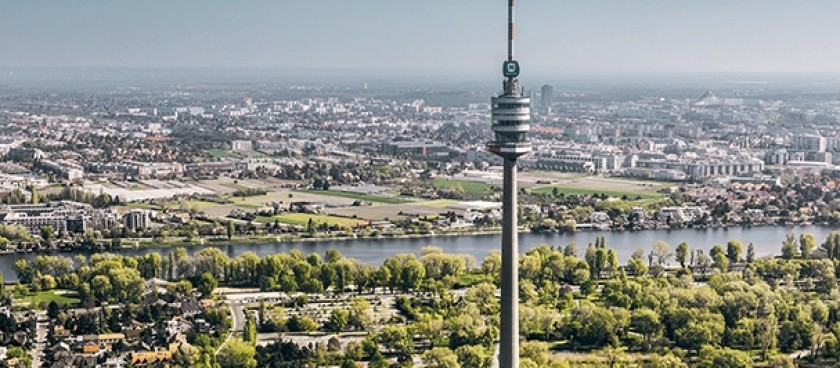 Image source: © viennapass.com
View all 26 places in Vienna ›

#AT24
Donauturmstraße 8, 1220 Wien, Austria
Working hours*:
Monday - Sunday
10:00 - 12:00
Prices*:
Adults - 14.50€
Children (6-14 years) - 9.90€
Children under 6 years get free entrance
Seniors - 11.00€

* - opening and closing times as well as entrance prices, are subject to alterations without notice. Visitors are advised to check before visiting.
#Towers
The express lift will take you to a viewing terrace 150 metres up in the air, with an unforgettable 360° panorama. That's what makes the Danube Tower a popular destination – and the perfect starting point for all those who want to discover the city.
A trip to the Danube Tower is something not to be missed: situated in one of the city's biggest and most beautiful parks, the Danube Park, it can be seen from afar, inviting visitors to discover its secrets. First your gaze wanders upwards, up the tower to its striking pinnacle.
Once up there, it roams into the distance, to the margins of the city and even far beyond.
These changes of perspective make a visit to the Danube Tower an unforgettable experience. Find out more about its history, look forward to its culinary highlights and enjoy the thrill of its lofty heights.